The 4-Point Cheat Sheet for Instagram Marketing
http://intentionalmarketeruniversity.com/using-instagram-for-business-everything-you-need-to-know-about-the-social-engagement-powerhouse/
Instagram marketing is all about visual storytelling, and for the savvy marketer who gets it right, it will yield a gold mine of interested and pre-qualified customers for your business.
Prefer to listen to the Podcast?
In the last 3 years Instagram has gained serious momentum. Inside of IMU we have seen Instagram go from a small picture sharing app, to a real business game changer. A social media platform that drives traffic to websites and puts customer leads into your business.
But there is a myth that is prevalent inside of the Instagram marketing circle:
That having an Instagram account and posting product images is the same thing as using Instagram for business marketing.
That, essentially, you can get yourself an Instagram account, start posting pictures of your products and services and like magic, the leads and sales will start rolling in.
No, not exactly.
You need to ensure thatyou follow the best Instagram marketing practices to get higher brand recognition, targeted audience following, and visibility for your business.
As per Social Media Examiner,
"There's no better way to step up your business game than to be active on Instagram. The platform is constantly making improvements, so individuals and businesses can get more out of it."
We know that taking the time to learn correct Instagram marketing is easier said than done, but do not be discouraged! If you take the time now to learn the proper way of marketing on the social channel you will be ahead of 97% of your competition.
So in this article, we want to provide you with an Instagram marketing cheat sheet that improves your Instagram marketing efforts.
Use Bitly to Track and Measure Your Traffic
The most important aspect of effective Instagram marketing is testing and tracking. The easiest way to do this? Create multiple offers for your Instagram account, make each one into a shortened link using Bitly.com, and measure the traffic each link is getting.
For example, at IMU we like to test 3 different offers with 3 different links. One link goes to our website, one link goes to our latest webinar registration page, and one goes to our Facebook business page.
Using Bitly as our traffic examiner, we are able to see which link is getting the most clicks and traffic back to the specific location.
Make sure you join our upcoming webinar: How to Create Successful Facebook and Instagram Pages For Your Business. Not only will we cover Instagram we will cover Facebook. We will teach you how to optimize your pages, attract more audience members to your pages, what type of content works best, and how your business will significantly benefit from targeted audience members.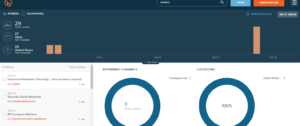 So what does monitoring traffic mean for your Instagram marketing efforts?
It means you now can document how many clicks your Instagram account is sending to your website. You have an analytical weapon to determine if what you are posting on Instagram is what your audience responds to.
The next time you change out your profile link, instead of just posting your actual link go in and make a Bitly link to endlessly track which link yields the most traffic and leads.
Download our complete Instagram for Business Guide
Everything you need to know to get your business started on Instagram
Drive Instagram Users Into Your Marketing Funnel
So what does it mean to drive your Instagram audience members into a marketing funnel?
The first step of any marketing / sales funnel is to find ways to capture your followers' email. One of the best ways to capture your followers' email is to give great value in exchange for it. And there are multiple ways you can do this. Remember point 1 of this cheat sheet, you can offer 2 or 3 different options for your audience to click on and track which one gets the most traffic.
For value, you can offer ebooks, guides, cheat sheets, or a weekly newsletter.
When the user clicks on your link and gives you their email address in return for your proposed value (ebook for example) they have just entered the top of your marketing / sales funnel. Now you can engage with them through email which is more personal than simple social media marketing.
To do this effectively, create a piece of value and a landing page that tells your Instagram audience they can get it with a simple email. Make sure your piece of value is something your Instagram audience will actually want and that your landing page has the same feel as your Instagram page.
To move your lead from the top of the sales funnel down to the actual sale, you will deliver more valuable information that solves problems, on a weekly basis (how frequently you email them is up to you). Drive them to your product blogs, your YouTube videos, Facebook business page, and any other location that keeps your product and services in front of them.
Get Comfortable with Your Own Sponsored Ads
Over the past year successful Instagram marketers have had to start playing a different marketing game. In 2013 you could have hundreds of leads flow into your business from Instagram just by using the top 2 points of this cheat sheet.
But with more and more business owners flooding the Instagram market the best marketing tip is to become comfortable with using paid ads for your business.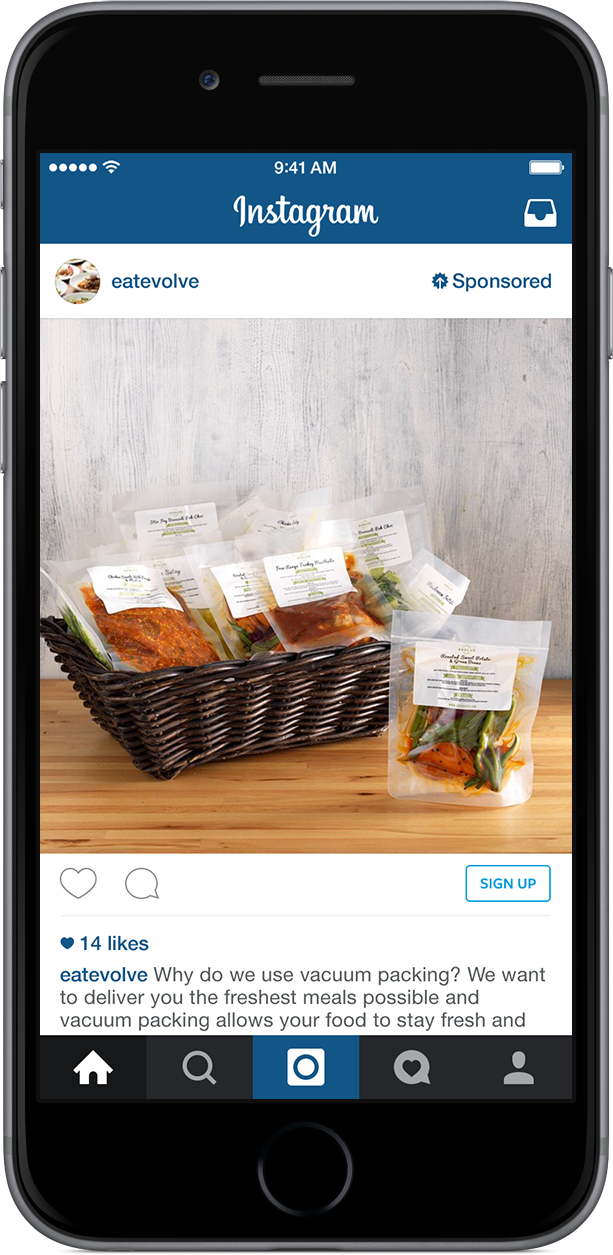 When you start using sponsored ads on Instagram you give your brand a whole new range to target your audience. If you are not using sponsored ads, then right now, only people who follow your account are going to see your photos, marketing promotions, and calls to action.
However, with sponsored ads your brand can promote your marketing posts to anyone within your target audience whether they follow your account or not.
Does paid advertising make you feel nervous? Good! That means that marketers in your industry are also feeling nervous and are avoiding it!
But as a savvy marketer you must be ready to go all out when building your business. Clearly define your target audience, do your research on what gets them to buy, create several posts to target different audiences, and then pull the trigger. You will be happy you did.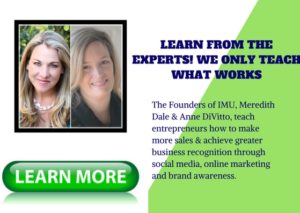 Timing is EVERYTHING
A recent Instagram update was to make business accounts available to the masses. By simply clicking "Switch to Business Profile" your account goes from a personal account with limited measurement capabilities to a business account with analytics.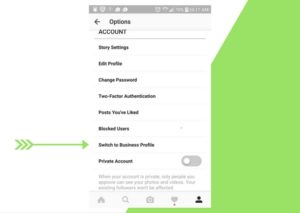 Why is this important for you? Actually, let's just say, it is EVERYTHING for you and your business.
When you switch to a business account you are able to see through the "insights" tab, if people are responding to your posts. With any post you choose you can easily see how many people saw it, interacted with it, and most importantly what time of day your audience is on Instagram.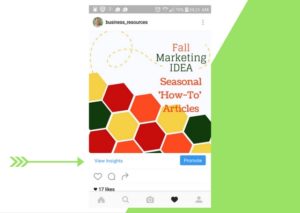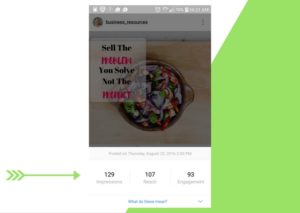 From there you plan your consistency schedule.
Consistency is THE important rule to live by if you want to market successfully in the world of Instagram.
Using the insights feature you are able to determine your best time, the target audience, and best of all what isn't working!
After you have made your account into a business account, wait about a week while still posting on a daily basis. This gives Instagram time to collect data on your posts. To find your insights, go your home page with all your feed's posts and click on the 3 small dots in the top right corner.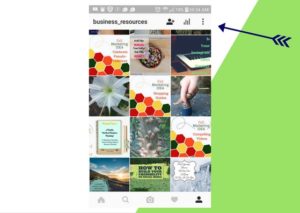 The next page that opens shows your audience and when they are Instagram. If you post twice a day pick the two times that the majority of your audience is on. This guarantees that you are reaching maximum numbers of audience members.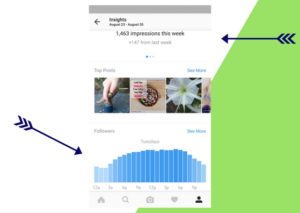 When you continue to plan your consistency schedule like this, your followers will know what to expect from you, when to expect to hear from you, and will come back for more. Using these analytics is the mark of a business owner serious about the business.
Conclusion
If you haven't been using Instagram up to this point for business marketing, now is the time!
Instagram is always looking out for the business manager by making new improvements. There has never been a better time for your business to get the maximum return from this social channel. Put into use the 4 points from this cheat sheet and measure which ones work best for you and your business.